FORM SHOWN BEING PERFORMED WITH FRONT (MIRRORED VERSION) AND BACK VIEWS INCLUDED FOR EASE OF PRACTICE 🙂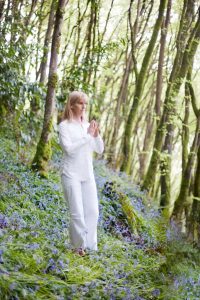 Tai Chi brings harmony with Nature, the Elements, raises our Consciousness and connects us to Universal Energy (Chi) and Divine Love.
Infinite Tai Chi is the art of the harmony of yin and yang, in tangible form.
It is all about gentle, graceful, rhythmic, meditative movements that will help you find inner joy, harmony, peace and calm.
It is "a wholesome discipline for perfect harmony in life, wherein lies all our joy, happiness, health, abundance, compassion and love"
All Human beings want to be happy and free from suffering. The source of Joy is within us.
We can all Be More Alive increase our Happiness Factor and transform ourselves into Joyful Beings through the practice of Universal Energy Arts techniques.