Summer Festivals 2018
featuring the Universal Energy Arts & YogiChild Academy
---
WEST CORK YOGA FESTIVAL  BALLYDEHOB, WEST CORK 3, 4, 5 AUGUST 2018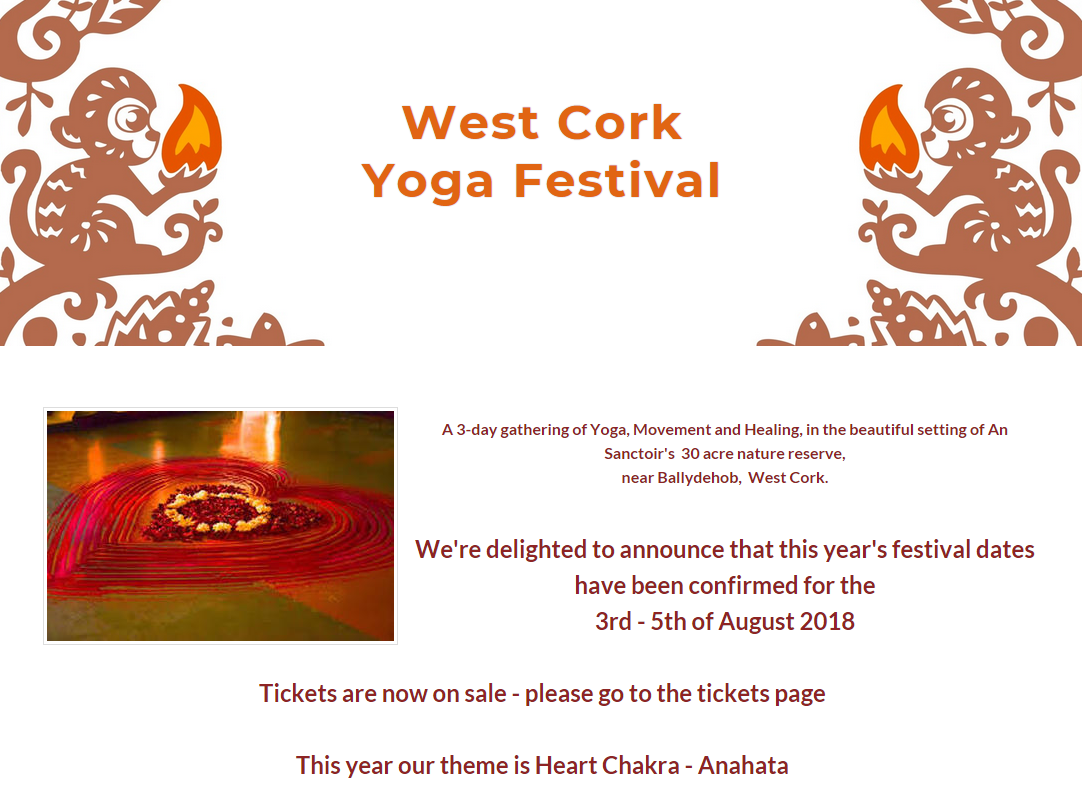 Saturday 10 – 11:30 AM  Chi Kung – 12 Directional and Energizing Qigong Exercises – Yogi Cho
The 12 Directional and Energizing Qigong Exercises, combine and balance all aspects of Yoga and Tai Chi together in one system. On a physical level, all your body and  internal organs will become stronger. On the emotional level, you will transcend all your fears. On the mental level, you will recapture your essential optimism and inner joy. Eventually, if you keep practicing the 12 Directions Qigong, you will be filled with inner Love and Light, and this Love and Light will naturally extend outwards to illuminate the world around you. Purification, empowerment and harmonisation. Become One with Nature and the elements of earth, water, fire, metal, air and spaciousness. Rejuvenate and heal the mind, body and spirit. Breathe in and breathe out Pure Nature Energy and become more alive, alert, relaxed, balanced and energized.
Saturday 3:15 to 4:45 PM Tai Chi Qigong – Cultivation of Divine Universal Love through the Tai Chi Form – Pam
Living Life Lovingly. "Infinite Tai Chi is a wholesome discipline for perfect harmony in life, wherein lies all our joy, happiness, health, abundance, compassion and love". We can gently open our Heart Centres to connect to the 'Divine Love Energy' that always surrounds us and is within us by learning and practicing the empowering skilful techniques of Tai Chi. Achieve an expansion of consciousness, a greater capacity to love, clarity of thought and an ability to hold the Divine Universal Love.
Sunday 7 – 8.15 AM Universal Energy Arts Academy Golden Dragon Tai Chi Qigong Spectacular – Yogi Cho
The Golden Dragons are symbols of the Higher Self, Vibrant Energy, Pure Loving Hearts and Open Creative Minds. Golden Dragon is a Hard Chi Kung exercise drawing on Pure Nature Energy to empower and to cultivate Chi Radiance and Strength. Reconnect with the state of innocence, purity and vibrancy – full of vital chi energy and inner peace. The practice can assist us to de-programme our sad, anxious, tense adult-self, to be truly joyful with tremendous curiosity for life and happy expectations for the future, through cultivation of the Three Treasures: Power, Love and Wisdom and the Four Immeasurables: Loving Kindness, Inner Joy, Generosity and Compassion.
Sunday 10 – 11:30 AM Sound Healing Qigong & Japa Chant Spectacular. 18 Healing Sounds Qigong, Japa Chanting, Kriya Yoga and Meditation – Yogi Cho
Learn how to cultivate and hold the Divine Loving Energies of the Universe with Qigong Meditation. Mindfulness, Visualization, Focus, Concentration & Contemplation. Prior to practicing meditation it is recommended to raise our Vitality and Consciousness, through the practice of skilful techniques such as Tai Chi, Qigong, Yoga, Healing Sounds and Japa Chanting. Then when we sit to meditate, our meditations have energy, are not flat and lifeless and we can hold the Universal Life-force energy. When we quieten our minds and look inward, the light of eternal wisdom can dawn into our awareness. It can then be possible to share Divine Love and our Inner Smile with the world. With dedication and effort, true spiritual meditation practice will eventually enable us to achieve an expansion of consciousness, to know the true nature of our mind, to attain ultimate liberation, or Enlightenment.
Sunday  3:15 to 4:45 PM Meridian Stretching Qigong (with emphasis on the Heart Meridians) – Pam
Meridians are the channels through which Chi (energy) flows, nourishing and energizing the body and immune system. These are part of a vast network of energy channels that makes each individual an integrated, conscious, and vital whole. Qigong/Chi Kung exercises are gentle but powerful movements which are synchronised with the breath and mind. They are a potent and harmonious method for getting in touch with and cultivating one's own Chi or Energy flow. Meridian Stretching Qigong opens and strengthens the main meridians/energy channels  – Become aware of and experience the 14 major channels, 31 Threads of Light.
Saturday 12:30 – 1:30 PM YogiChild Session for ALL AGES – FAMILY YOGA
YogiChild practices combine Tai Chi, Qigong, Healing Sounds, Meditation and Raja Yoga.
This is a unique path based on a dynamic fusion of Qigong and Yoga philosophies, techniques and practices. YogiChild combines thousands of years of treasures from these complementary paths to personal radiance and spiritual wisdom. Yoga and Qigong truly enhance each other when practised together. The key goal is to develop sustained, wakeful alertness throughout one's practice. YogiChild is dedicated to the physical, emotional, mental, energetic and spiritual growth of all the children (young and old) of planet earth!
Sunday 12:30 – 1:30 PM YogiChild Session for ALL AGES – FAMILY YOGA
YogiChild is the Art and Science of Living and is designed for the evolution of the mind, body and spirit of teacher and student, for all ages and needs, from -1 to 108, from the womb to the tomb! These empowering practices will help to manifest strong physical bodies, pure loving hearts and open creative minds. All ages of students are encouraged to participate in order to reap the myriad benefits from these healing arts.
---
MASTERS OF CALM 22 – 24 JUNE INIS RATH ISLAND
Friday at 12 noon Festival Opens
14.00-15.30 Sound Healing Meditation with Yogi Cho
19.30-21.00 Universal Energy & 8 Limbs of Yoga with Yogi Cho
Saturday 7.00-8.30 Chi Kung with Yogi Cho
 16.00-18.00 YogiChild in the Kids Meadow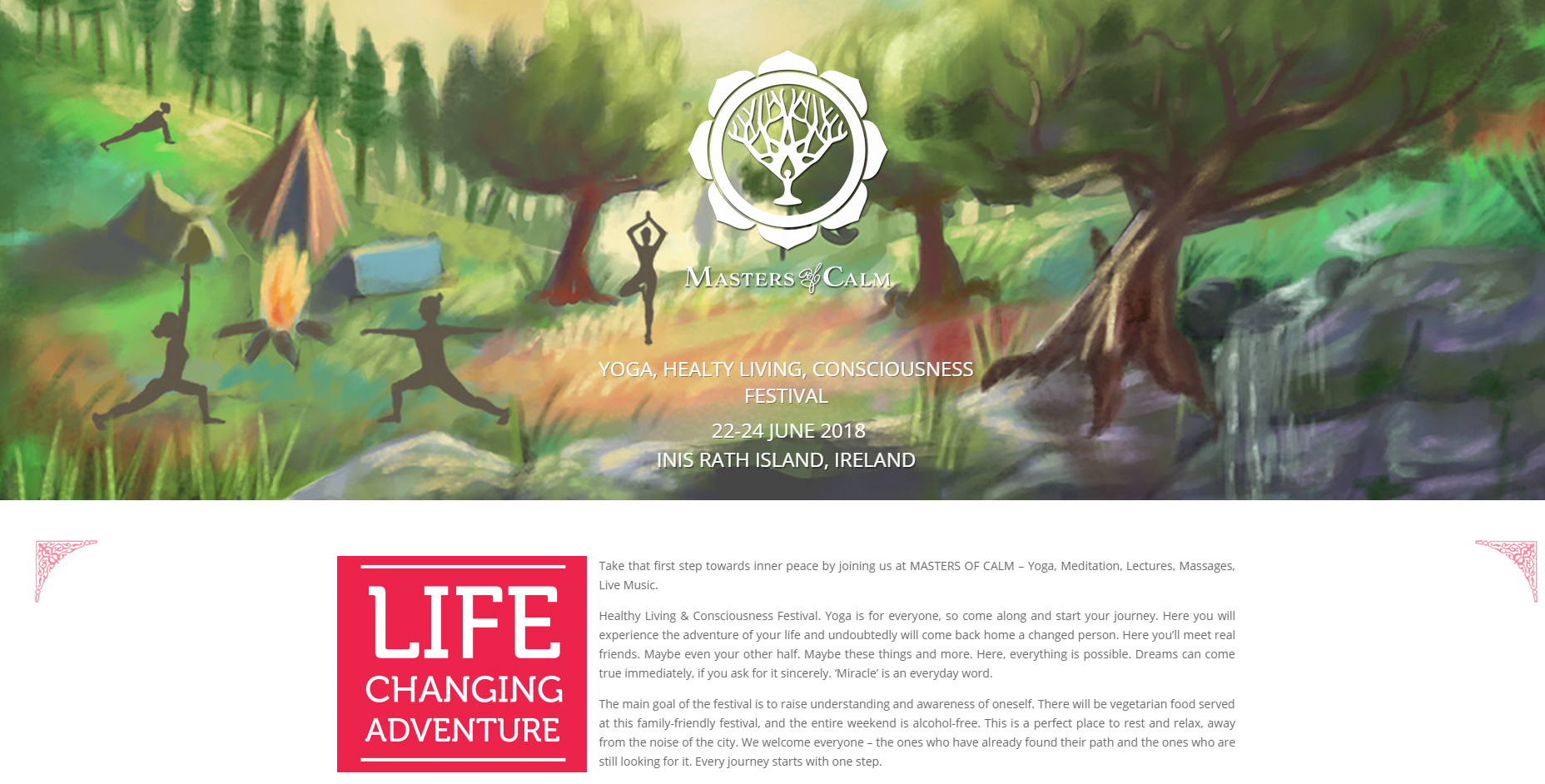 ---